Honorable Inductions
On Sunday, October 17th, new members of Quill and Scroll, Tri-M Music Honor Society, Mu Alpha Theta, and National Honor Society were inducted into the clubs. There were several inductees for this year's ceremony that added on to the current members of all years.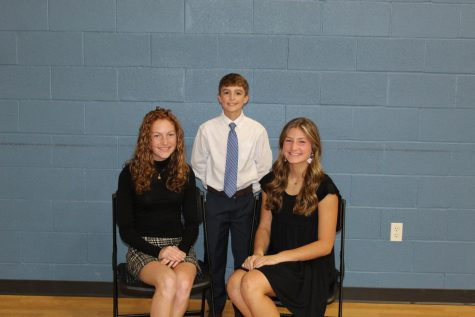 The Quill and Scroll Society is an international journalism honor society that honors excellence in the academic field of journalism. The advisor for this honors society is Mrs. Dana Donovan, who has been advising the group since 2006. The inductees for this year were Adysen Harre, Bennett Krohne, and Lydia Luechtefeld.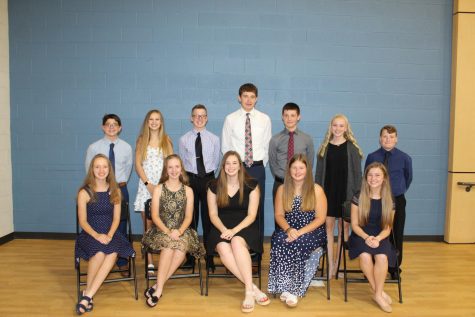 Tri-M is an honor society recognizing excellence in the field of music and is advised by Mr. Reed Recker, who has sponsored for 4 years. The new members this year are Aidan Anderson, Isaiah Auer, Sidney Charles, Laura Cook, Sarah Cook, Caleigh Friedrich, Madison Gogolek, Jenna Hackstadt, Calvin Maynard, Tyne Moore, John Schaller, Sydney Tebbe, and Parker Wiese. The officers are President Alyssa Gavin, Vice President Gracie Nelson, Secretary Wilson Welch, and Treasurer Isabella Rader. This year, Tri-M will participate in multiple community service projects, such as face painting, making crafts, and throwing a pizza party for the music program. "I hope we continue to develop activeness and service to the school, community, and to the music program," were the words from Mr. Recker.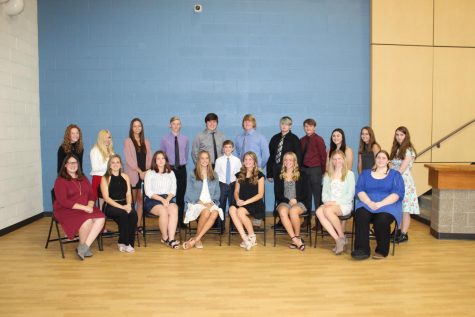 Mu Alpha Theta is an honor society recognizing excellence in the field of mathematics. This society is advised by Mr. John Laughlin, who will be sponsoring the club for his first year. The inductees of this year are Dylan Benson, Margaret Boecklen, Lexysse Borrenpohl, Gabrielle Bosworth, Kylie Buehler, October Carlile, Hailey Cornman, Cheyenne Ellerbusch, Jacob Funk, Hayden Hagarty, Adysen Harre, Shane Klasing, Bennett Krohne, Lydia Luechtefeld, Taylor McGranaham, Evan Perry, Megan Rennegarbe, Parker Smith, Max Snyder, Macie Staley, Dillon Teter, Madisyn Wienstroer, and Maci Wolf. The officers of this organization are President Zoe Todd, Vice President Sydney Tebbe, Secretary Alyssa Gavin, and Treasurer Erin Niles. Mu Alpha Theta will be participating in a math field day at Carbondale this year, and they will also conduct a fundraiser.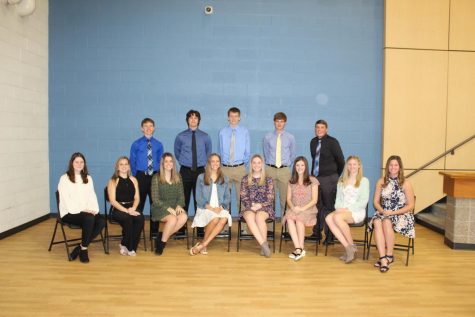 The National Honor Society recognizes students for excellence in the following areas: leadership, service, character, and scholarship. NHS is advised by Mrs. Tricia Schleifer, who had been sponsoring this organization for years. The new members this year are Kristen Althoff, Kylie Buehler, Elizabeth Frederking, Jordyn Heckert, Joseph Jansen, Jared Juenger, Hannah Miller, Megan Rennegarbe, Briley Rhodes, Andrew Savard, Grant Schleifer, Hayden Shubert, and Maci Wolf. The leaders of this club are President Sydney Tebbe, Vice President Zoe Todd, Secretary Alyssa Gavin, and Treasurer Erin Niles. NHS will be participating in and has participated in PTO babysitting, Special Olympics, Okawville's basketball tournament, registration, and several other community service projects. Each student completes five hours of community service each semester.