Seussical Cast Announced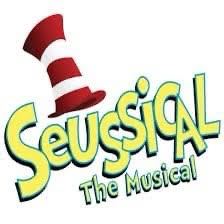 That's right folks, this year, the OHS drama club is putting on Seussical. Seussical is a comedy written by Lynn Ahrens that is based around all kinds of different characters from Dr. Seuss's books, such as Horton, the Cat in the Hat, the Grinch, JoJo, and so many others. The club is run by Mrs. Amy Welch.
This year's cast has Hannah Miller as our narrator Cat in the Hat, and Wilson Welch as one of our main characters: Horton, a compassionate and determined elephant. Bella Welch is our other main character, Jojo, an imaginative and misunderstood young girl. Gertrude McFuzz, a shy bird who falls in love with Horton and helps him in his endeavor, is played by Maci Wolf. Madison Wienstroer plays Mayzie LaBird, Horton's vivacious yet lazy and self-centered bird neighbor. General Genghis Khan Schmitz of the academy is played by Thor Gavin. 
The ill-tempered matriarch of the Jungle of Nool, the Sour Kangaroo, is played by Sydney Tebbe, with Mallory Bening as her daughter, the Young Kangaroo. Jojo's parents, Mr. and Mrs. Mayor, are played by Jared Juenger and Elli Kremmer. The three fabulous Bird Girls are played by Alyssa Gavin, Megan Rennegarbe, and Taylor Hettenhausen. Thuggish monkeys that steal Horton's clover, the Wickersham Brothers, are played by Evan Miller, Bennet Krohne, Calvin Maynard, Rylan Nelson, Isaiah Auer, Aidan Anderson, Thor Gavin, and Jared Juenger. Jacob Funk will be acting as both the Grinch and Yertle the Turtle. The sinister black-bottomed eagle Vlad Vladikoff is represented by Adysen Harre. Cindy Lou Who will be played by Laura Cook. 
The members of this year's chorus are Annie Culli, Adysen Harre, Tyne Moore, Reagan Luechtefeld, Laura Cook, Sidney Charles, Lydia Luechtefeld, Maggie Sawicki, Claire Dulle, Jenna Hackstadt, Ellie Frederking, Caleigh Friedrich, Paige Riechmann, and Madelyn Epplin. 
The show runs from the 5th-7th of May. Good luck to our drama club putting on the musical!