ACES Team Takes First at Nashville Regional
The ACES team's hard work has paid off, winning first place in their regional competition at Nashville High School. Many individuals on the team placed in their categories, resulting in a win for Okawville. These members include Nora Wood taking first in both Chemistry and English, Samantha Friess scoring first in Biology, Sidney Charles in second place in both biology and computer science, Jared Juenger in second place in chemistry, Kylie Buehler in third place in chemistry, Grant Schleifer with a first in physics, Joe Jansen with third in physics, Aiden Anderson taking first in engineering graphics, Hannah Miller with third in engineering graphics, and Bella Welch with third place in computer science.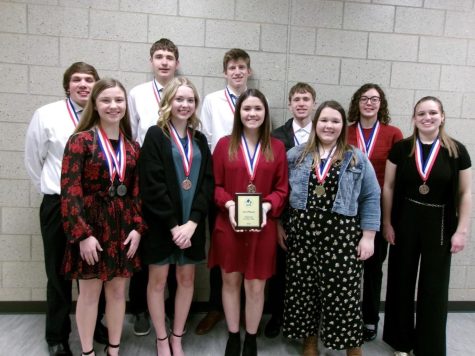 ACES coach, Rhonda Hormann, expects the team to do well in their next competition stating, "I believe they will do very well. We have many students that are very dedicated and do very well for the team."
We are so proud of our ACES team, and we wish them luck in their sectional competition. Their sectional competition will be held on Friday, March 3 at SWIC. Go Rockets!